A couple of weeks ago, I asked what you wanted to see more of on the blog and how I streamline my blog content organization and writing is one of the topics you want to know more about.

The best way to do this and show you is to share my process of writing a blog post.

As I am typing this, I realise that it's sort of like the movie Inception.

I'm writing a blog post, which is about my process of writing a blog post. Haha!

So here is how you can organise your thoughts and turn it into striking content.

This is my process from ideation to completion–from thoughts to a finished article.

I start with my content calendar (also known as an editorial calendar).

I have a spreadsheet where I list down the topics I want to write about and the publication date.

I also have a mastersheet of all post ideas. Whenever I feel stuck, I whip out that list and choose which idea sparks excitement and write about that.

What if you don't have a content calendar?

Look at your core categories or the list of common topics you write about.

For example, for this blog my three core categories are content creation, self-care and travel.

Though this blog is about growing your creative business, so you can live a life on your own terms and travel whenever, I mainly publish posts about how to grow your blogging side-hustle, so I have a lot of posts about that topic.

Ask yourself: what are your main categories?

If you don't have them yet, now's a good time to brainstorm what topics you want to be the go-to person for.

No matter what topics you choose, you have to make sure that you focus on content that resonates with your community.

Once you have your core categories, have a file where you list down every post idea you have.

Every time you think of what content you want to publish, write it down.

No idea is too small or too big.

Just write everything down and you can refine your idea from there.

What's important is that you remember your idea.

If you don't have a content calendar, what you can do is to have a spreadsheet where you list down your publication dates with the corresponding blog post idea/ topic.

Here's an example: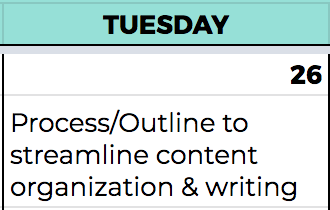 Tuesday, February 26: Process of streamlining content organization and writing (which is this post!)

It doesn't even have to be a sentence–as long as you know what you want to talk about, that's okay.

You can be as detailed as you want to.

I like to plan ahead. I have blog post ideas lined up in my content calendar so all I have to do is check what the post is next and write that.

If you're interested in the exact content calendar template I use for my creative business, subscribe to the email list here when I launch my product. You'll also get the checklist I used to start this blog!

If you already have a content calendar, your next step is to start creating your content.

Now, I don't always stick to the topics I plot out in my content calendar.
It helps to have topics scheduled for the days I feel like I don't know where to start.

I copy paste the topic into a new document and make it my working title.

I then pick out what keyword I want to focus on for the post.

It's important to do keyword research to check how easy or hard it is to rank for a certain topic.

The keyword "start a blog" is very competitive.

There are thousands of blog posts that cover that topic, so it will be harder for you to rank especially if you're a new blogger.

By doing keyword research, you can pick a long-tail keyword (keywords with more than one or two words) and see how easy it is to rank for.

I use the WordPress plug-ins Squirrly and Yoast SEO as well as Google Trends to help me with keyword research.

From there, I create an outline.

This outline also helps me as I can turn bullet points into headings.

Nowadays, it's so important to make your blog easy to read, meaning that you focus on crafting short paragraphs.

I used to start with writing the headline first, but now it varies.

Sometimes I begin with crafting the headline and then work on the content.

Other times, I dive into writing the paragraphs first.

I go with the flow or whatever I feel like writing first.

No matter what I start working on first, I always make sure to take my time with the headline.

After all, your headline is the first thing your reader will see.

Most times, it's the headline that will convince a reader to give your blog a chance or not.

One of the tools I use for my creative business is CoSchedule's Headline Analyzer Tool.

All you have to do is plug in your blog post title and then click "analyze"

It will give you a score as to how well your headline is crafted.
There are also tips on how to improve your headline such as the type of words you use and the length of your headline.

Once I'm happy with my first draft and the headline, I move on to creating graphics for my post.

Canva is another tool I use, which helps me create blog post graphics and my Pinterest pins.

For example, this graphic you just saw is created with Canva. I love that they have plug and play templates.

An SEO tip I have for you when uploading your images on your blog is to rename your file to the keywords you're using.

My long tail keyword for this post is "blog content organization" so I before I upload any image to this post, I make sure that the image file name is "blog-content-organization"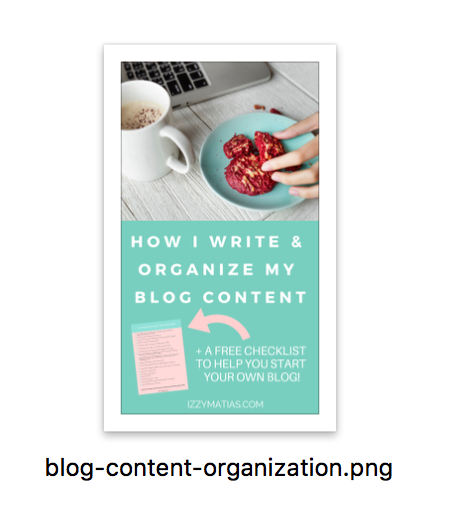 Once the images are uploaded, I then work on making my post SEO-friendly.

I don't just plaster my keywords all around the post, but I do use them strategically.

I've already shown you one way I do it.

I also write a short description about what this post is about.


This short description is what I use in my meta description (read more about that here), and the description in my Pinterest pin.

I simply copy-paste my short description into the alt tab of the image.


Once that's done, I format my post.

I experiment where best to place my blog post graphics.

I include internal links to help with my blog traffic as well as outbound (or external) links to sites that rank higher than my own.

I make sure to include a call-to-action at the end of my blog post.

I invite the reader to become an email subscriber and give a freebie.

Before hitting publish, I proofread the blog post a couple of times and preview the post to see how it will look like.

After publishing, I make sure to promote the post as much as I can.

That means sharing the link on Pinterest, Twitter, Facebook and Instagram.

Promoting your work online can feel weird and sales-y in the beginning, but sharing your work helps in boosting your blog traffic.

You put in a lot of hard work and research into crafting your blog post.

Be proud of what you've created!

And that's a run down of how I create a blog post.

I hope that by sharing my blog organization process, you've learned some helpful tips that you can apply to your creative business.

What's your process like? Let me know in the comments below!
PIN THIS!
Can I ask a favour? If you've found this post helpful, please do share the link using the social buttons below. Every share counts! Thank you 🙂